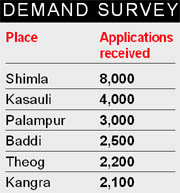 Shimla, May 5
Notwithstanding the strict restrictions on construction activity in and around Kasauli, there is no dearth those desiring a summer abode in the cool climes of the much preferred hill station as the Himachal Pradesh Urban Development Authority (HIMUDA) has received 4,000 applications from those keen to have a house here.
With restriction on purchase of land by outsiders in the hill state on the account of the HP Tenancy and Land Reform Act, HIMUDA has received over 65,000 applications from house seekers at various district and sub-divisional headquarters. This includes 40,000 applications received from the 12 district headquarters and over 25,000 applications from house seekers at the sub-divisional level.
The demand survey for which the last date for applying was April 30 saw tremendous response both from Himachalis as well as outsiders. It is expected that the number might still swell up, as data from certain places is yet to pour in.
As expected the highest number of applications has been received from the state headquarters of Shimla as 8,000 applications have been received. The other district headquarters where the demand is high includes Hamirpur, Dharamsala and Mandi.
"The fact that 65,000 persons have applied only reaffirms the faith they have in HIMUDA and our endeavour will always be to provide affordable and quality housing, depending on availability of land," said Ganesh Dutt, Chairman, HIMUDA.
He added that HIMUDA was identifying and acquiring land for the purpose and could also raise a loan of about Rs 100 crore to meet the demand.
As far as the sub-divisional headquarters are concerned, as expected the maximum demand for houses is from Kasauli, which has old bungalows owned by prominent people. The fact that Kasauli has a major location advantage due to its proximity to Chandigarh, Punjab and Haryana also makes it an ideal place for a summer home. After Kasauli, the highest number of applications has come in from Theog (2,200), the industrial belt of Baddi (2,500), Palampur (3,000) and Kangra (2,100).
The fact that acquiring land or house by outsiders is no mean task in Himachal because of Section 118 of the HP Tenancy and Land Reform Act, buying a house from the HIMUDA is the easiest and safest option. The rates of houses made by HIMUDA may be comparable with the ones made by private builders but it saves a person from the trouble of seeking government permission, which is mandatory when a house is bought from a builder.
The fact that 65,000 persons